Taking full advantage of virtual reality, 3D-platform, the DVCon Europe steering committee has re-imagined the poster presentation concept from scratch. This new virtual world enabled us to enhance the whole poster experience with following features in the virtual poster booth:
Poster display screen
Pre-recorded poster presentation video
Author's bio with photograph
Presenter as avatar
This will not only help to make the posters more elaborative and comprehensive during the 1 hour poster session on 28th October, but also enable the attendees to explore the posters on their own, before or after the actual poster presentations, with the help of pre-recorded videos. Attendees will be able to ask questions either in person or through the Q&A chat window, which can be later answered during the session or follow-up post event, through emails.
The communication between avatars is based on their proximity, which means if you want to talk to the poster presenter and ask a question, you must walk towards him and he will only be able to communicate with you once you are close enough. The pre-recorded video sound is confined within the poster booth, so this resolves the un-wanted noise issue, however you might experience a mild murmuring of crowd, which will give you a warm nostalgic feeling from pre-covid conference era.
Similar layout of posters will also be presented in the 2D world of the conference platform. We have 11 posters on various design and verification topics, which are distributed among 8 different Virtual Experience Rooms with different themes. Concise abstracts of these posters can be found at poster abstracts page and will help you to get an insight into these brilliant innovative ideas and trigger curiosity.
In order to make full use of the Virtual Experience Rooms, we encourage participants to become familiar with this environment before the conference and to create their own avatar. More information can be found in this Getting Started Guide.
We are very excited to welcome you in DVCon Europe 2020 and specially in our poster booths.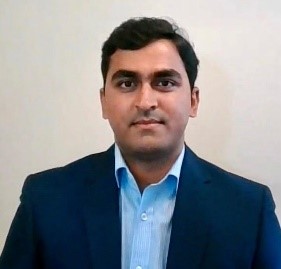 Sumit Jha
DVCon Europe 2020 Poster Chair